Introducing NEW CapriLac Fresh Goat Milk Packaging!
We've improved our fresh goat milk packaging to keep the same quality, fresh taste and delicious flavour, for you to enjoy for even longer!
This NEW CapriLac Goat Milk Carton can still be found in the fridge aisle of the supermarket, at the same store locations and for the same price!
CapriLac Goat Milk 1L Carton is available at: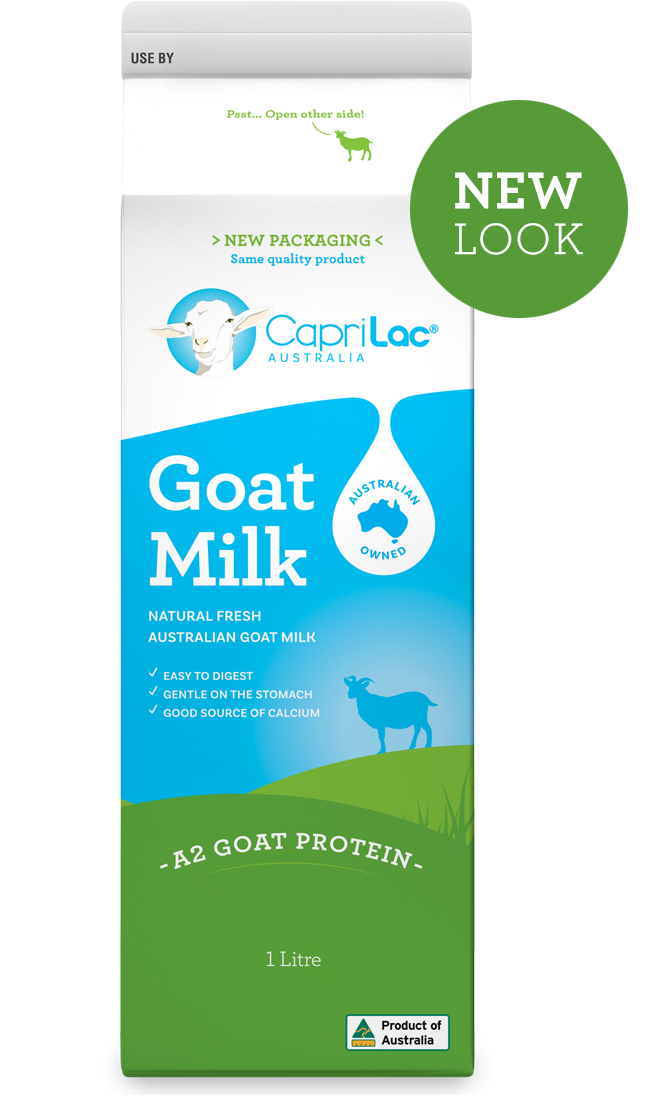 HOW DOES THIS GET A LONGER EXPIRY DATE?
By utilising new technology in milk processing we are able to achieve a longer lasting milk that does not spoil as quickly as our previous fresh milk. The carton also protects the milk from light which helps keep it tasting fresher for longer.
IS IT STILL PASTEURISED AND HOMOGENISED?
Yes, it is still pasteurised and homogenised.
ARE THERE ANY PRESERVATIVES?
No, absolutely none. We simply kill the bugs that cause spoilage by heat, only heat.
IS THIS LONG LIFE MILK? WHAT IS THE DIFFERENCE?
No, it is not long life, it will deteriorate quickly if kept outside the fridge.
Long life milk is processed at higher temperatures and involves multiple heating stages to kill off all bugs and their spores. It is completely sterile hence it can be kept at room temperature. Our Caprilac Goat milk isn't processed at these temperatures and only undergoes a single heating step.
DOES IT TASTE DIFFERENT?
The milk shouldn't taste different, however, if you do feel it tastes different then you are a connoisseur! There is actually an improvement in the flavour profile of the milk especially as it ages, compared to the old milk.
WHERE IS IT MADE?
Our Caprilac Goat milk has always been sourced, processed and packed in Victoria.
WHY DID YOU MAKE THIS CHANGE?
We strive to continuously improve our consumer offering. We created a better tasting product, in packaging that can be recycled locally, and a longer shelf-life that offers more convenience and reduces wastage!